Hook-Up - Bowl Contest
Area51 organizes together with Dobermani Productions, Hooked Collective and Just Friends Skateboards a sick bowl contest. The list of the skaters will be updated soon, stay tuned trough the Facebook event!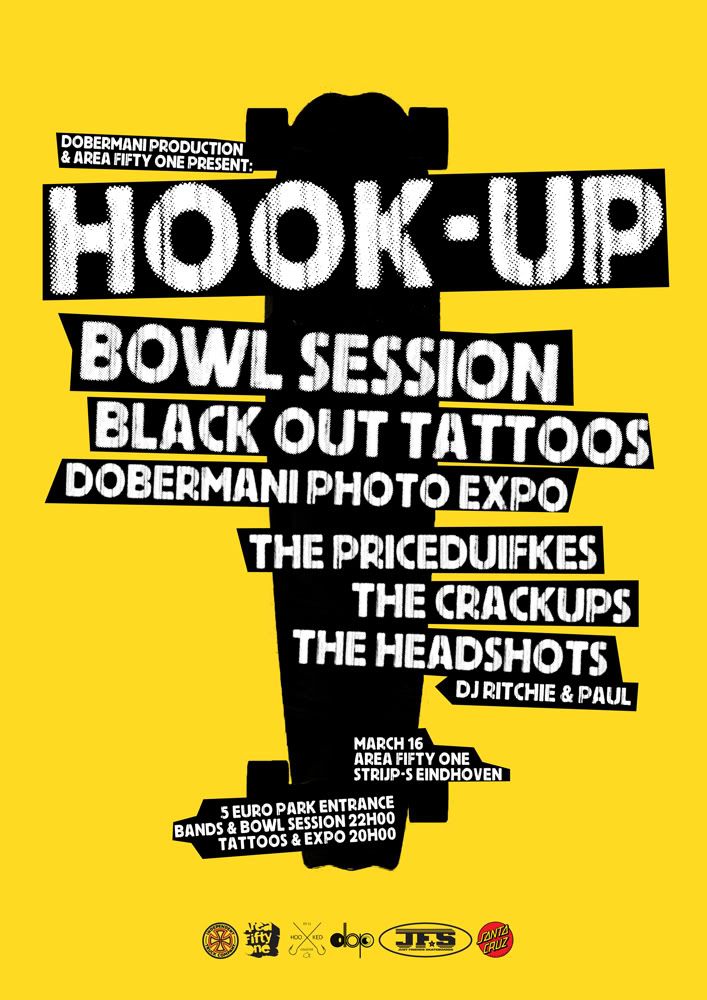 [Flyer by Siebe le Duc]
The evening starts at 20:00 o`clock with a photo exposition of Nicola Debernardi (from Dobermani Production), with pictures taken at the Area51.
Then, around 22:00, the bowl contest starts with live music from 3 bands: The Headshots, Priceduifkes and The Crackups.
After the contest the night goes on with Ritchie & Paul, who will deejays until late.
In addition, there will also be Black Out Tattoos who will work on appointment.
There are a shit ton of reasons to come over to the Area51 skatepark on 16 March, don't miss it!
ORGANIZERS:
www.area51skatepark.nl
www.dobermaniprod.biz
www.hookedcollective.be
www.justfriendsskateboards.nl
BANDS:
www.myspace.com/joepylerandtheheadshots
www.myspace.com/thepriceduifkes
www.myspace.com/thecrackups
SPONSORS:
Santa Cruz
Independent
Posted by

Anonymous
- 2/13/2012