Everything Ready For VOLT
For two consecutive days all participants will exhibit their best products, works and ideas - accompanied by a reading with special guest Scott Bourne and a video premiere by SKATERSATLAS.COM, long awaited "Pushed" Movie by Florian Schneider and more by YAMA Skateboards, DECAY Skateboards, CONTRAST SKATEBOARDS, SQRL, iOnArt...
The exposition will take you away to a variety of European spots and their most interesting stories by Yama Skateboards, September Wheels, Perus Skateboards, Cliché Skateboards, Super Tomorrow Skateboards, Playwood Skateboards, Munky Shu Grip Tape, Muckefuck Skateboards, Brutal Beauty, Suwereen Skateboards, SQRL, iOnArt, My Own Board, Stil-Laden, Freedom Skate shop, Decay Skateboards, VIRUS Skateboards, Insomnia Collective, FLY Skateboards, VOLT SKATE SHOP, personal rec., L-abel LAB and many more...
On the exhibition wall you can find the skate photography world of Christoph Str, Tim Korbmacher, Philipp Schuster, DNL and September Wheels. The forgotten pages of some long gone skate magazines will be opened again to remind you of the good old times; Live paintings, video projections and the sessions on the skate line will bring you back!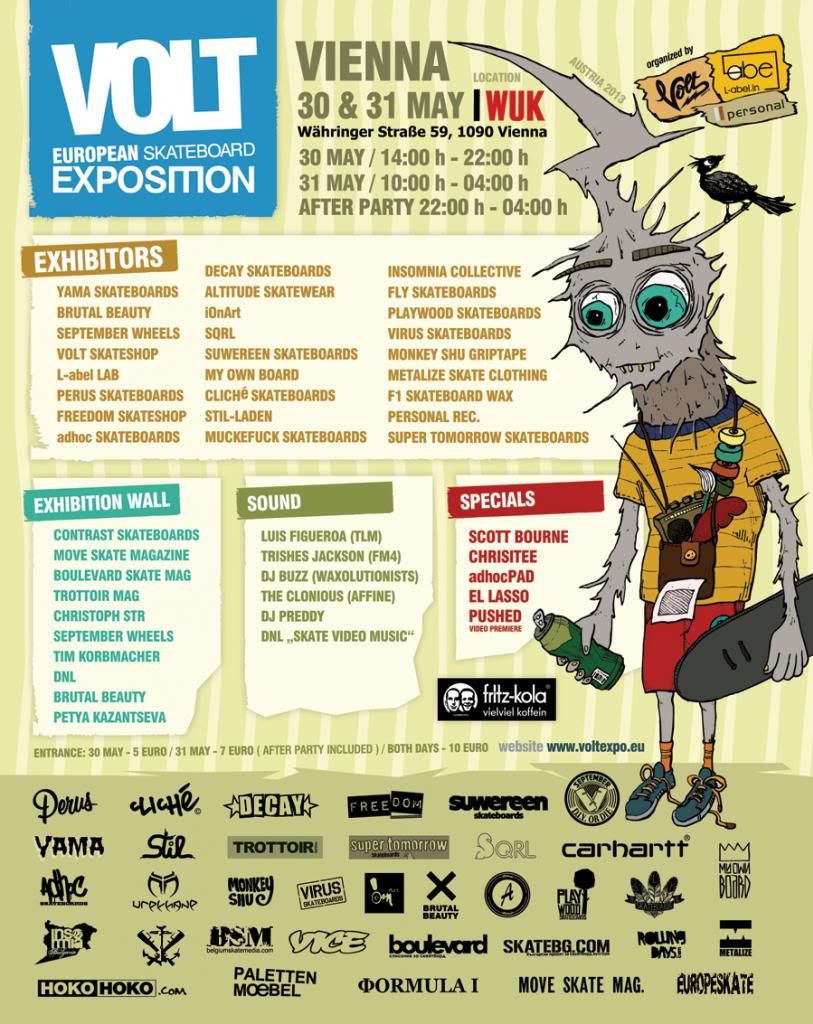 From beginning to end there will be finest DJ sets and old skate movie soundtracks. Drinks & BBQ will round out this event to a pure pleasure for everyone you makes it - small or big brands, magazines, distributors, dealers, manufacturers, producers, photographers, shops, skateboarders, bums, hobos - you are all welcome…
VOLT European Skateboard Exposition is going down in Vienna on the 30st and 31st of May, exposing the subcultural world of skateboarding in Europe and most of its industry. >
www.voltexpo.eu
If you are in or around Vienna (Austria) end of May, you should check it out. Its first edition is going to take place at WUK (Werkstätten- und Kulturhaus,
www.wuk.at
).
Posted by

Belgium Skate Media
- 5/28/2013